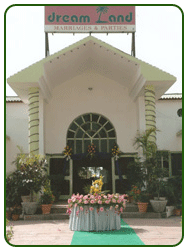 Dreamland Resort provides Event Management services. Lush Green Lawns for Marriages, Birthday Parties, Kitty Parties, Confrences and also provide services like Catering, Florist Decoration, Musical Parties and Infrastructure

The Resort is managed by the team of thoroughly experienced professionals, welcomes you its world of comfort and hospitality. The Resort with its perfect and ideal venue for hosting conferences, meetings, weddings and other functions.

It is ideal for peaceful business conferences on weekdays, in its well-equipped conference halls.it easily forms a good venue for various occasions like social gatherings, wedding reception, conventions etc.

We believe in laying the foundation of a lasting relationship with you and have the uncanny ability of anticipating your needs to match your life style & dignity - An experience you should not miss! Situated in more than 2 acres of land resort provides you with facilities best in its class. It is one of resort where a gathering of 1000 people can be held.

Our Resort is 13 km away from Golden Temple & Jallianwala Bagh, 9 km from Railway Station, 15 km from Wagha Border and 10 km from Bus Stand, 15 Km from Airport, it is situated at four lane NH-1.